MOZA Unveils AirCross 3 - the Foldable and Transformable Gimbal
MOZA has just added a new member to their lightweight and compact gimbal lineup, the AirCross 3, a lighter and more compact gimbal for DSLR and mirrorless cameras. With the gimbal's new foldable design, the AirCross 3 is easier to travel with, set up and use.
Foldable and Transformable
The MOZA Aircross 3 is essentially four gimbals in one. Combining Classic Mode, Sling Mode, Dual-Handle Mode, and the Grip Extension, the AirCross 3's upright one-handed design continues to pack a punch in the filmmaking world.
Classic Mode keeps your camera stable for upright pan, pan-tilt follow shots while Sling Mode does the same for those must-have low angled shots. There is Dual-Handle mode for filmmakers who prefer to use a single vertical handle with one hand and a horizontal handle with the other. This allows greater control for capturing those cinematic moments. You can also seamlessly attach the AirCross 3 to the MOZA Slypod using the Grip Extension. Just attach the gimbal to the Slypod with the tripod thread underneath the pan motor and turn your AirCross3 into a slider.
Compact and Strong
The AirCross 3 folds down to the size of an A4, 9in x 12in(10.63"x8.85"), piece of paper for easier transport and storage. The impressive compact design allows you to pack the AirCross 3 down in a matter of minutes, making it easy to get ready for the next shoot. Although compact, the AirCross 3 is still powerful, featuring stronger motors and an updated Deep Red algorithm.
Weighing just 3.3lbs(1.5kg), even with the tripod, and supporting rigs up to 7lbs(3.2kg), theAirCross 3 is capable of handling most full-frame mirrorless and DSLR cameras on the market.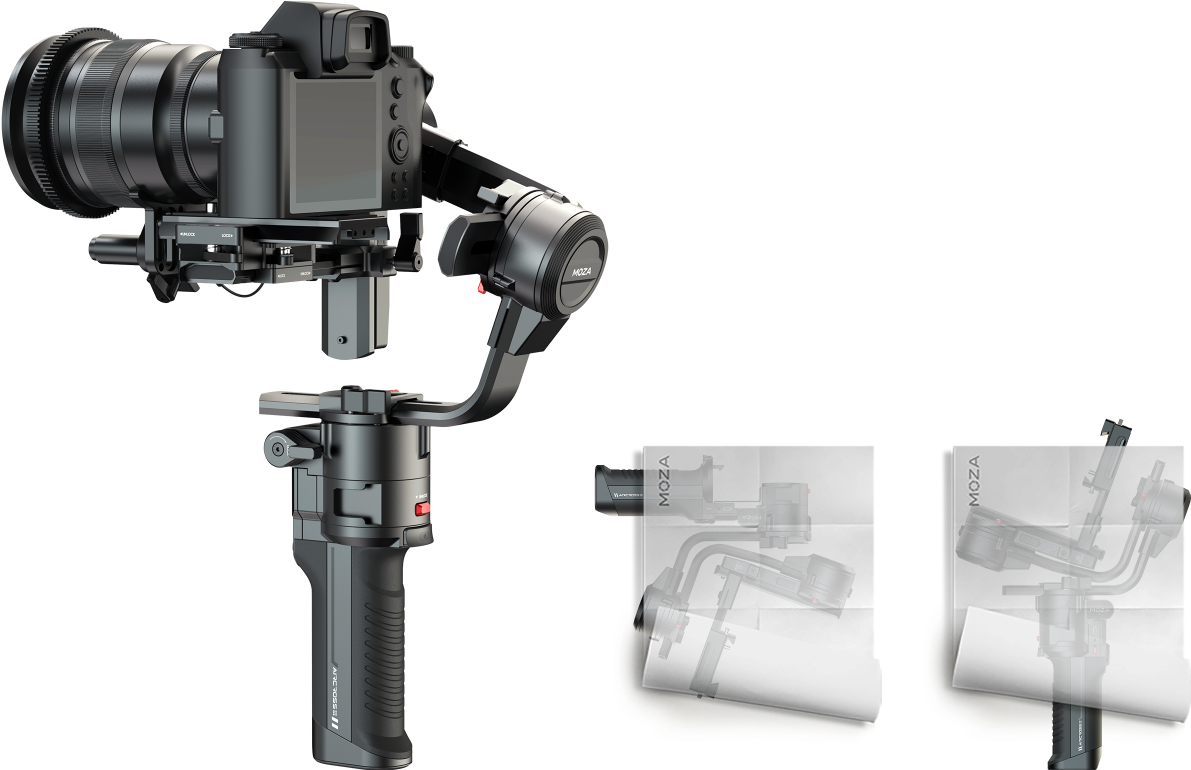 MOZA Spark Power Supply System 3.0
Equipped with an improved battery, the MOZA AirCross 3 is capable of running up to 19 hourson a full charge. The built-in 3500mAh high-capacity battery is not only powerful but it can also be charged with an external USB battery bank. This is great for the videographer on-the-go as well as any photographer seeking to shoot time-lapse video all night long.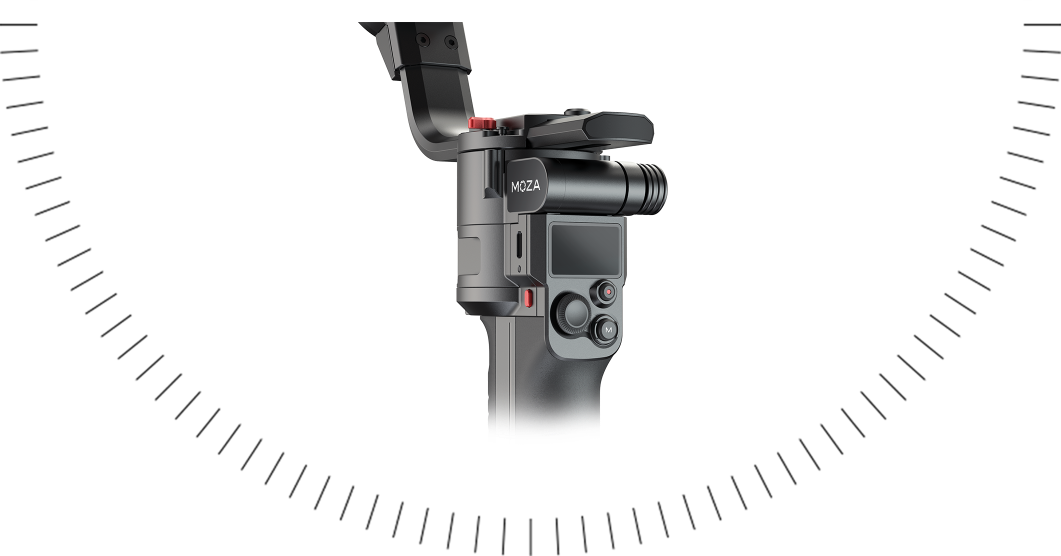 It provides the AirCross 3 with up to 19 hours of run-time
Can be fully charged in 1.4 hours.
Superior Build Quality
The MOZA AirCross 3 has an improved and strengthened metal design which provides a better motion response, making it feel as though the gimbal is an extension of your arm.
Improvements have also been made to the motors of the AirCross 3 making it so the motors consume less power when not under load and the gimbal can last longer for all-day shooting.
Designed with the latest Deep Red algorithm, the AirCross 3 is much better with position control, behavior prediction, and idiosyncrasy unlocking, which provides higher levels of command and stability over your shots.
MOZA AI
Simply gesture the international hand signal for OK to start recording and hold your palm out flat towards the camera to stop recording. MOZA's brilliant AI design allows for precise face and body recognition by combining substantial computing power with a 1MP camera into such a small device, object tracking is now easier than ever. If the subject being tracked is lost the MOZA AI system can re-track the subject within 5 seconds.
Simplify For More
Portrait mode is becoming ever more popular thanks to Tik Tok and Instagram Stories. MOZA has improved portrait mode shooting by designing a new dual-layer quick-release plate. No extra extensions or accessories are needed to turn your camera and gimbal into a social media machine. MOZA has also updated its UI Design on the AirCross 3 making the graphic sidebar menu much simpler to understand and use.
WHERE TO BUY
____________________________________________________________________________________________________