CASE STUDY: Monash University Malaysia Offers 360 degrees Hybrid Classroom
CASE STUDY: Monash University Malaysia with KANDAO
Online learning becomes a crucial facility since the Coivd-19 pandemic in 2020. Monash University embraces advanced technologies to prepare itself as a forefront educational institution ready for online learning of the next generation.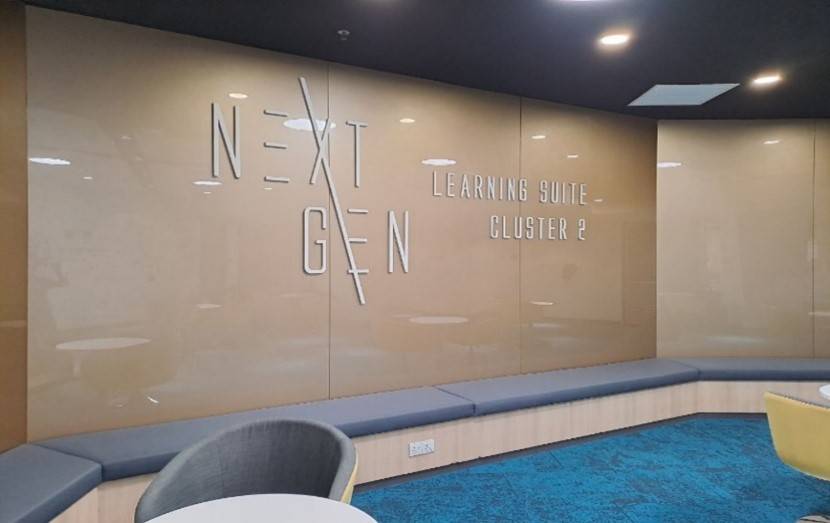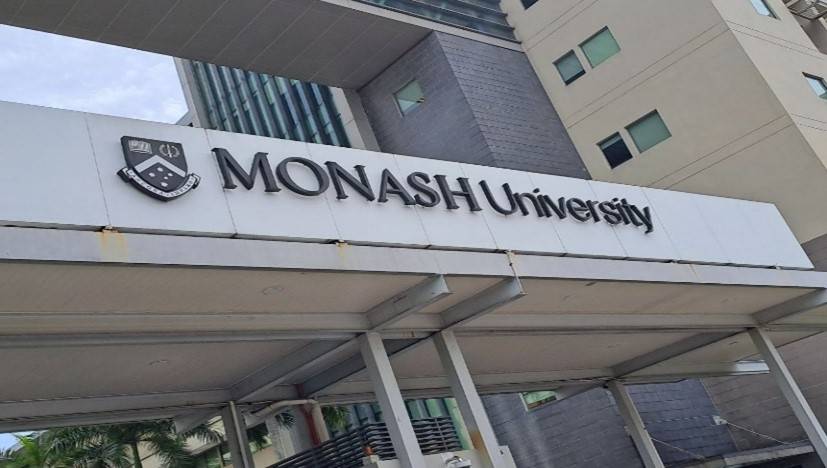 Customer: Monash University
Country: Malaysia
Project: Next Gen Online Learning
Industry Education
Camera Kandao Meeting Pro 360
Benefits:
Ensure online students are able to view
the lecturer and the entire classroom.
- Allows lecturer the freedom to move
around with the AI auto-tracking camera.
- Enable students to speak clearly with its
5.5m radius microphone voice pick-up.
Challenges Faced by
Customer
Deniece Yeo, Senior Administrative Executive of Education Excellence explained, "We struggled to conduct hybrid classes because students online often couldn't hear us in class. The existing classrooms are not equipped for hybrid sessions, moreover, each room only has a maximum of two microphones and a standard stationary webcam. In-class students had to pass the microphone around to speak and it was not ideal for discussion activities as only one could speak at a time."
Online students will not be able to hear and see who is speaking in the class if they were to speak without the microphone. Lecturers find it troublesome to adjust the webcam manually and the camera lens is limited to only 90 degrees field of view therefore it is not capable of capturing the entire classroom view to ensure online students could follow the speaker. Other than that, when technical issues (usually audio) arose, lecturers had to redirect their attention and wasted valuable class time to resolve them instead of focusing on facilitating activities. Online teaching becomes a hassle and all these technical downtimes have caused unfavorable learning and teaching experience for everyone.
Monash University consulted Kandao distributor, Streamcast Asia Sdn Bhd for a workable solution to improve the hybrid learning experience and Kandao Meeting Pro 360 emerged as a viable alternative.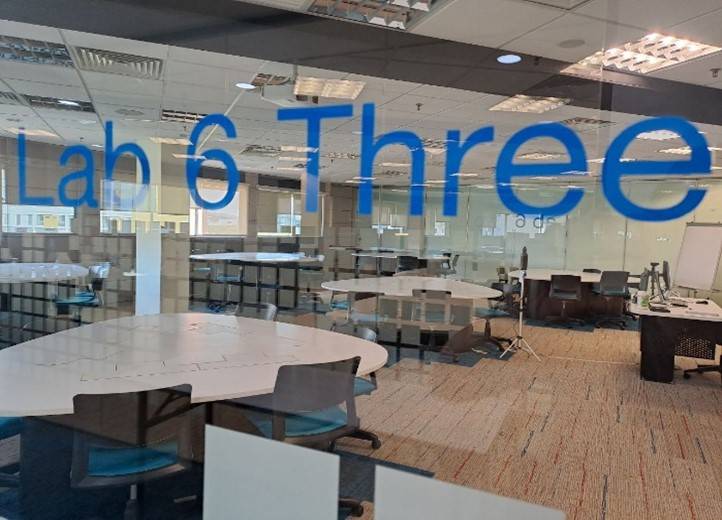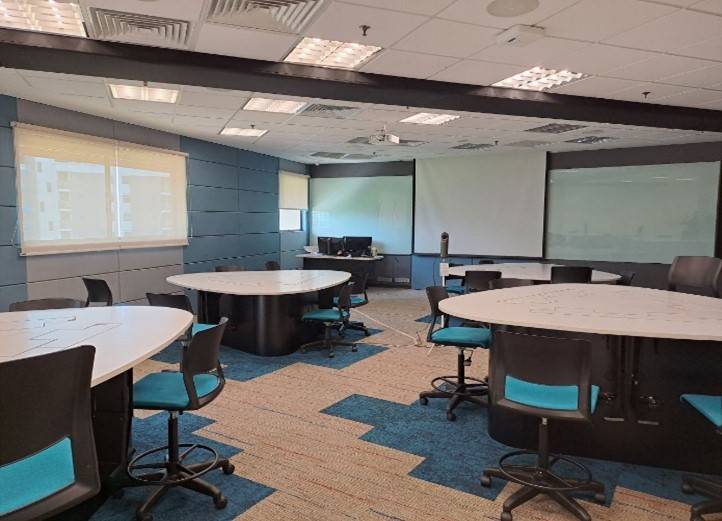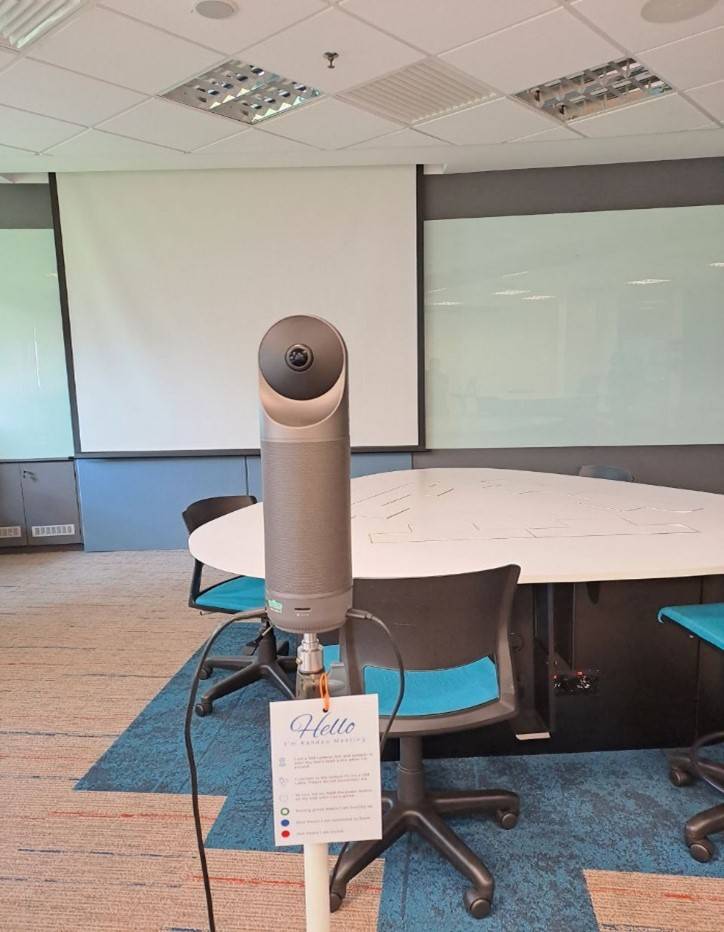 Kandao is beyond any ordinary conference camera, it's an all-in-one 360 live-stream video with speaker and mic.
The new Kandao Meeting Pro 360 is fixed on a lantern PC via an extension cable with preset audio and viewing mode, the camera is able to capture the classroom at an optimal view. The device is Plug and Play where lecturers will only require to verify some simple settings before the class starts. Now, in-class students no longer have to pass the microphone around to speak, and online students can hear and be actively involved in the sessions just like when they are present physically in class, thanks to the Kandao built-in microphone that is able to pick up voices covering a radius distance of 5.5 meters. Lecturers have the freedom to move around the classroom as they teach and no longer have to manually adjust the webcam focus point because the new Kandao camera has its AI intelligence voice tracking capability which follows the speaker.
New possibilities, hybrid classroom now goes 360 powered with AI intelligence auto-tracking camera!
With the successful deployment of the Kandao Meeting Pro 360 camera system, Monash University empowered its education experience to a whole new level.
It is the first university in Malaysia to offer such hybrid learning facilities enhancing both learning and teaching in an effective holistic approach.
The Education Excellence department had the chance to utilize the device for their hybrid education showcase event back in July 2022.
In the event, staff from other schools and departments have shown great interest to deploy the Kandao device for their own use.
It is indeed a great privilege for Kandao Meeting Pro to be able to deliver such innovative solutions to a prestigious university like Monash University Malaysia